Home
Here's the help you need, NOW!
Order the popular, widely used
"Music Reading & Theory Skills"
music teaching & learning tool to make learning easier, faster, and more fun!
"Music Reading & Theory Skills is one of the single most important tools I ever used for developing individual musicianship and understanding. This method literally taught me how to teach theory and the elements of music. It is sequentially appropriate. I would not teach secondary school music without this method."
Dr. J. Steven Moore
Director of Bands
Colorado State University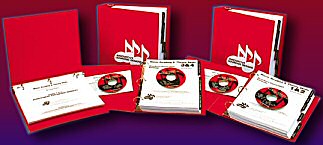 Meets "No Student Left Behind Act" criterea for funding
Ready-to-use, teacher-Designed, materials include:
Student writing lessons,
Ear training practice,
Student correction answer keys & recordkeeping,
Assessment for: writing, listening, performing, activities & games,
Rhythm-track accompaniment,
Wall chart reminders,
More!

Four comprehensive learning levels
...to reach all ability and experience levels, beginning through advanced, in large or small groups, in the same class at the same time.
Beginners learn:
Note reading
Rhythm reading
Music symbols & terms
And beyond...

Advanced challenges are:
Music composition
Melody & harmony construction
Music arranging
And beyond...
This curriculum helps learners to
sing, play, read, hear, listen, write, improvise, perform, describe, label, create, analyze, arrange, orchestrate, compose, and rehearse.
Respected by seven million students and teachers in all 50 states -- in school band, choir, orchestra, and music theory classes.
Suitable for all learners
any level or age, 8 to 108.